The Mythical Synths of Cape Verde's Sonic Revolution
Tana Yonas dives into how one small country developed the brilliantly colorful sound of electrified "funana" music.
The Cape Verdean Island of Santiago — where funana music was born — is one of ten islands in an archipelago that was colonized by the Portuguese in the 16th Century to act as a slave trading hub for much of the New World.
With its colonization, the first community of enslaved Africans were brought to the island, along with their music and traditions, that in turn cemented itself into the cultural identity of these desolate islands.
More recently, it's the setting for a magical realist tale involving a lost ship headed to Rio De Janeiro. Carrying keyboards and synthesizers by Moog, Farfisa, Hammond and Korg, all intended to be showcased at a music expo in the Brazilian city, the gear never made it to its destination.
Director Joe Fletcher's hybrid-documentary A Sweet Pain: The Rebel Synths of Cabo Verde, made in collaboration with Vinyl Factory, gives you a chance to viscerally experience the myth — and the truth behind it. Sweet Pain arrives with a brilliant companion compilation, as well. Issued by Analog Africa, it's called Space Echo: The Mystery Behind the Cosmic Sound of Cabo Verde Finally Revealed.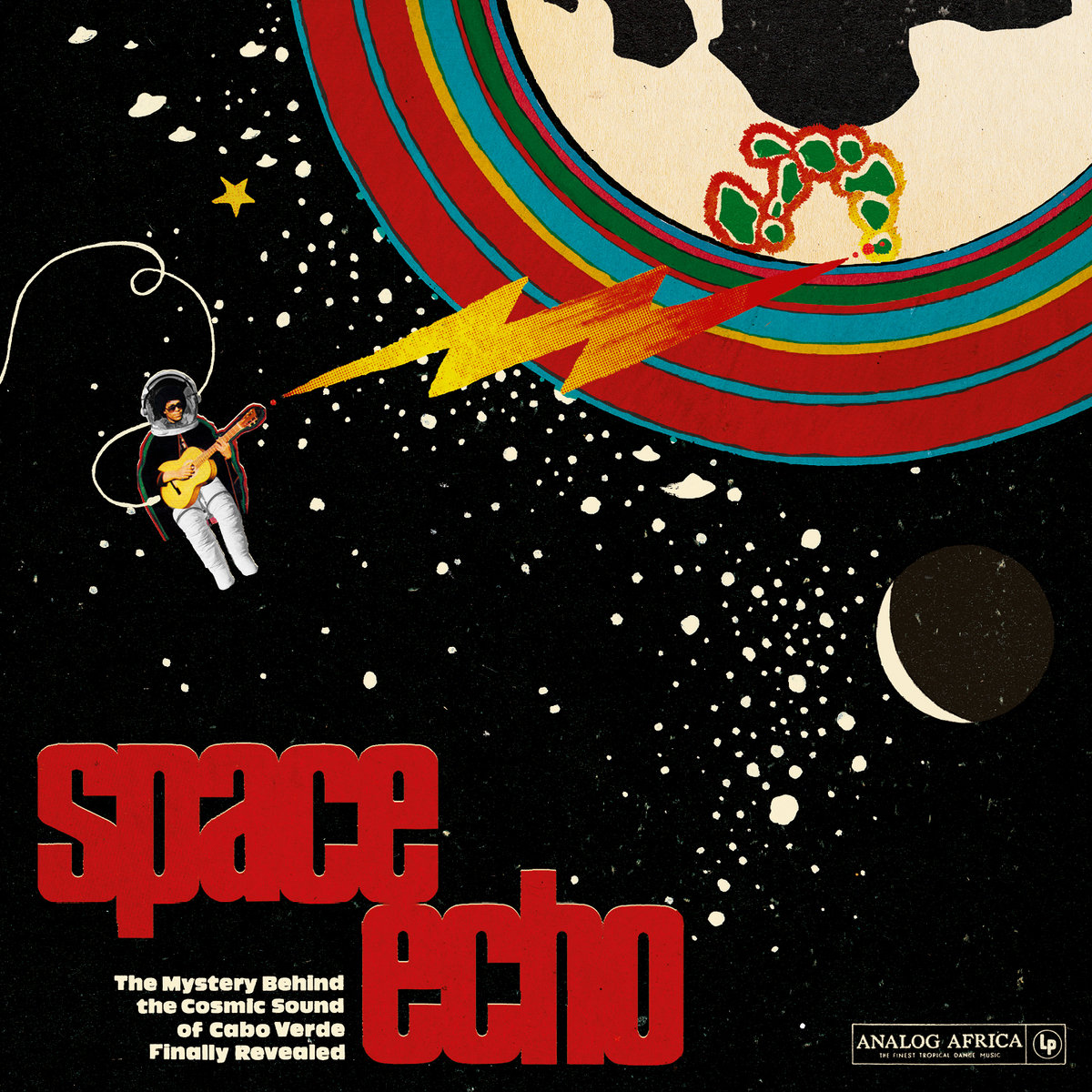 Together the documentary and the record trace the fading mythical trail of the electrification of the Cape Verdean funana music. After the ship washed up along the shores of Cape Verde's São Nicolau island in 1968, the story goes, the new gear changed funana as a genre forever.
The myth goes on to explain that Amilcar Cabral, the much beloved Cape Verdean leader of the archipelago's independence movement, saw the potential of the washed-up synths and ordered them to be distributed among the people. Cabral is regarded in Cape Verde as a national hero whose fair hand and poetic intellect eventually delivered sovereignty to the people of the islands in 1975. Not only a Nationalist but a revolutionary Pan-Africanist, Cabral pushed to celebrate African traditions that had been forced underground by the Portuguese.
"Cabral recognized that something like music was fundamental to culture and culture is absolutely intrinsic to giving downtrodden people pride," Fletcher said.
With these synths in hand, a new funana was born.
This music is a unique mix of West African and Portuguese, the latter of which brought the diatonic accordion to the island. Another essential piece of the instrumentation that you can hear punctuating every song, the ferrinho, is a strip of iron you scrape with a butter knife.
Sweet Pain meditates on this cultural convergence, uncoverings stories of funana's beginnings that feel full of life. Portuguese society reacted so violently to the spirit of the music that they unsuccessfully attempted to erase it from culture. 
"Adapting or taking on the music of imperialism is the sort of perfect foil to be able to subvert it, in the same way that happened in West Africa with the revolution in music that happened through brass bands," Fletcher adds, specifically "through instruments like the saxophone, which were imposed on the country by the English as part of marching bands for the army."
Fletcher continues, "There's a cunning strength in being able to take something which is extensively part of your overlords over their wheelhouse. It becomes your own and you can show independence through that or you can manipulate it in a way where it's sort of turned against them." The accordion for example, was introduced to locals as a way to popularize Portuguese music. In the case of funana, though, they cast away those forced appropriations in favor of their own sound.
Funana is just that: Hedonistic and upbeat, with lyrics that speak to the joyful spirit that commonly accompanies the music. During peak popularity, men and women pushed their hips into each other and sensually moved together in sync with the beat, which offended the Portuguese so much they made it illegal to play.
Tim Seiber, a Professor of Ethnomusicology at the University of Massachusetts – Boston who has extensively studied Cape Verdean musical traditions, told me that funana was "always seen as an act of resistance."
In the '60s, bands including the Cabo Verde Show, Tulipa Negra, Voz de Cabo Verde and Tropical Power lyrically captured the importance of the fight for independence. There was a relentless dedication to Cabral's goal for an independent African Cape Verde. "Oh, Africa" by Black Power, illustrates this growing push for African self-identity — an idea that at the time was controversial and remains a contentious topic within the Cape Verdean diaspora.
Nanie Lima is a founder and leader of an online community of thousands of Cape Verdians who are on the journey of tracing back their genealogy. She told me that this lyrical shift in funana during the 60's was "akin to hip-hop in the '90s, where you had Public Enemy and others who had their awakening of Black identity as a central theme in their music." Funana was used as a tool "to bring the masses together, because there was a huge part of the Cape Verde population, especially the Cape Verdeans abroad, that were against the independence movement and getting rid of the Portuguese."
The land itself protected the traditions of the people. Many of the islands in Cape Verde have their own mountain ranges that jut into the sky and look as if they've been carefully molded by the whipping sea breeze. Slaves who escaped forced servitude made those mountains home, creating clandestine, thriving communities. The barren landscape made it tough for the Portuguese to recapture them. Stories of such hidden "free towns" of escaped slaves that protected African musical traditions repeat themselves across the African diaspora during the Atlantic slave trade, like the case of Blue Mountains in Jamaica and Palenque in Colombia.
By contrast, "morna" is another prominent Cape Verdean genre with its own worldview in direct opposition to funana. Unlike funana, it was always loved by not only Cape Verdians but the colonial elite. For the Portuguese, morna offered an innate comfort. With its slow tempo, familiar song structure and lyrical content, it consistently captures the famously ephemeral Portuguese concept of "saudade." Saudade is one of those words that gets heavier every time you ruminate over it. For renowned Brazlian writer Aguinaldo Silva, to experience saudade "is to love a past that has not passed, is to refuse a present that hurts us, is to not look at the future that invites us…"
After watching Sweet Pain, you might find yourself feeling critical of morna, almost as if it was intentionally posturing for the approval of the Portuguese. "It gets back to that idea of what's really Cape Verdean," Seiber says.  "If morna is just contaminated because it was popular during the colonial period when people weren't throwing out colonialism, does that mean it's implicated in a sort of pacificity of people who accepted being colonized? Or do we want something that is more resistive and African-inspired, especially given that Cape Verde is now understood as being a part of Africa."
For her part, when considering her own relationship with morna, Lima had a decision to make.
"Here's something I grew up with and identify completely with," she says. "I listen to the music and hear some of the notes that are melancholy and it elicits a lot of emotions in me. It came to a point where I had to reconcile with, 'Yes, a good part of Cape Verdean culture is influenced by the different Europeans that settled there.'"
Learning that there are more Cape Verdeans living outside of the country than in, and the people's long history of captaining ships or working as deckhands on long sea voyages, you get a sense that the concept of "saudade" serves as a necessary catharsis.
It also explains why voices like one of the most popular morna musicians, Cesaria Evora, who many called the Billie Holiday of Cape Verde, have become so emblematic of the genre. Fletcher described Evora as "singing against the storm, in a way." (The second half of the playlist that accompanies this article features morna, notably with one song that perhaps most quintessentially captures the spirit of the genre: "N'kre Bu Fora Di Marka" by Jose Domingus A. Lopes — who happens to be Lima's father.)
Some say the shipping container myth is problematic. It's true that economic opportunities and harsh environmental factors, including the deathly droughts throughout the islands in the '40s, meant Cape Verdians had long established communities around the world. In turn, bands of every genre began incorporating musical influences from their new homes.
"I think why some are offended [by the myth] is the idea of asserting that Funana was special and took off in a way because of some kind of accidental importation from another country," Seiber says.
"Cape Verdians have been involved in a very large global diaspora for a long time, so a lot of the people live in France, Portugal and the US, and most of the infrastructure for the music performance industry was readily available to them in all those places. They had recording studios, electronic instruments and a consumer audience to buy their music. They created funana themselves."
—————
So is the myth true? If it's not, I don't think the romance of this journey is lost. Most Cape Verdians don't mind the myth as long as it brings awareness to their culture and the voices of their ancestors. Tim added, "It's okay to create new myths if they give a lot of recognition and appreciation for the creativity and intelligence of the people they're about."
In the case of Sweet Pain and Space Echo, they definitely do. Across its 10 compelling minutes, Sweet Pain, is such a potent example of the power of music. A particularly poignant lesson, according to Fletcher is that "Music is a unique thing, because like writing it allows the listener to explore space, but within their mind. And I think that's very dangerous to governments because you can taste freedom in a piece of music."
In fact, this myth intrigued me enough to write about this story. So without it, you might have lived your life and never heard the sweet synth solos of funana. And what kind of life is that?
As for Lima and her experience as a Cape Verdean, it's clear what she is most proud of.
"It's the resilience," she says."When I look at history, we survived some pretty horrific things and we're still here with our African voice. With everything that has happened to our ancestors, their voices have survived."
All bands and musicians mentioned in this article can be found in the Spotify playlist below, which also includes tracks that show the range of funana, morna, and other experimental renditions of Cape Verdean music from the 50s-80s.

For more of Joe Fletcher's work, check out a short documentary he did on Ebo Taylor's lost tapes that was also done in collaboration with Analog Africa and Vinyl Factory here: link . Stay tuned for his forthcoming series for the BBC called "War Songs" that explores lesser known songs that started wars, ended wars, and were about the wars themselves.