An Audiophile's Dream: Common Wave Hi-Fi
Tags:
hi-fi

/

speakers

/

stores we love
ISC Staff Michael Friedman steps into Wes Katzir's elegant, industrial Downtown Los Angeles showroom.
It doesn't get any more 'state of the art' than this, and one could argue the audio gear found at Common Wave Hi Fi, located in the Arts District in downtown Los Angeles, is art itself. As owner Wes Katzir powers up the Nagra HD amplification gear, he explains that the tubular phono pre-amp has to warm up, so while we are waiting he's gonna play some high resolution files through one of the best Digital Audio Converters (DACs) on the market.
After enthusiastically telling me about the new YG Acoustics Sonja 2.2 speakers, which have just arrived at the store and stand nearly six feet tall, he shows me the intricately woven cable wires that attach to the tube amplifier. Everything in this system has been well imagined, with each component carefully chosen to work in unison.
In another listening room I'm led to yet another cozy leather couch and asked to sit in the sweet spot. This is the shop's latest marquee "wow" system, and Wes is very excited to demo it for me.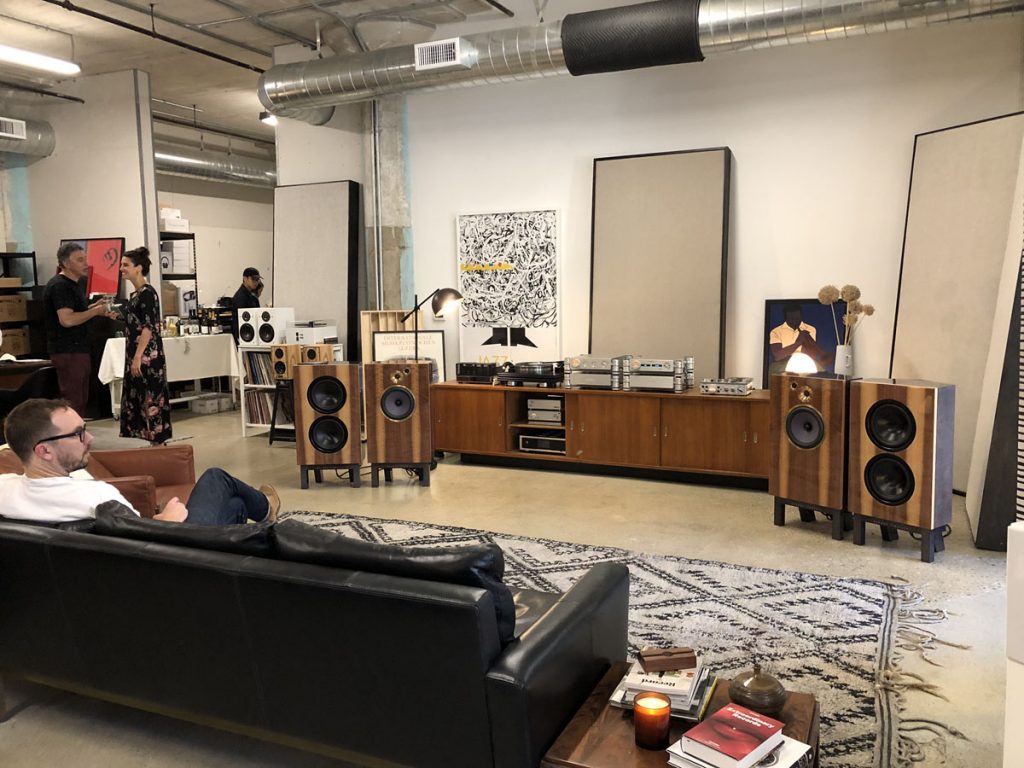 Common Wave is a well appointed audio equipment store that also sells records and accessories. With its polished concrete floors and beams, stylized modern Danish furniture and perfectly placed Persian carpets throughout, think of it more like the most comfortable industrial loft living space you've ever been in, only surrounded by exquisite stereo gear. This is where Wes' background in architectural design and sound comes in.
Wes has built within these walls an audiophile's dream, a highly curated, acoustically designed music den where people can come to listen to music on high-end audio equipment the way it was intended to be heard. Within the vast loft space are no less than six different listening setups, ready to be played and demoed, with at least one system playing music at all times.
If you're into Miles Davis, they have the perfect speakers for you. If classic rock is more your thing, there is a complete amp and turntable combo ready to be auditioned.
Any preconceived notions that digital streaming is a compromised format are quickly put to rest. What I was hearing was about as close as you can get to the original source. The clarity and precision of the music was something I had never experienced before — like being in the room where the music was originally recorded. An experience that has to be heard in person to be believed, it was simply stunning.
Then it was time to put a record on the 'piece de resistance' Kuzma Stabi R turntable, and Wes selected an LP by French flautist Aurele Nicolettes. While one of the quietest records I'd ever heard, it also had a warmth and presence.
Common Wave is also a well stocked record shop that stocks audiophile pressings, including one of the largest MOFI (Mobile Fidelity) collections in the city. You can find reissued jazz records on Blue Note and Three Blind Mice alongside albums by Aphex Twin and Nine Inch Nails. A miscellaneous section with great selections under $10 and even a few $1 bins where you may be able to find some used gems.
In other words, there's something to be found for every music lover in this musical oasis here in DTLA. You can walk in and spend a buck or two on a couple records or drop a cool million dollars on the best sounding stereo system ever made. Wes spoke to In Sheep's Clothing about the shop.
How long have you been in business?
Since 2016, and two years here at the new location downtown.
How is biz these days?
Initially it was kind of frightening, but the minute we opened up by appointment things got steady again. And we've seen an increase during this time, actually. People are spending more time at home and they're appreciating their home entertainment systems. There's definitely been an uptick in turntable sales.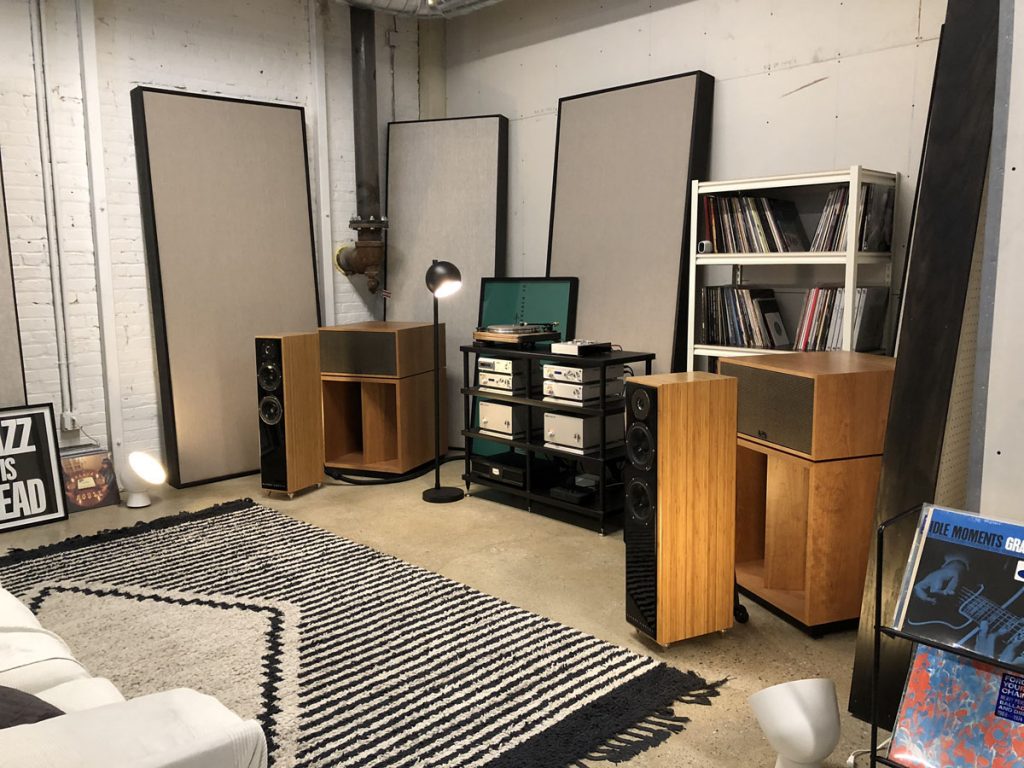 What do you guys do other than sell stereo equipment and records?
We do full system design and installation of audio systems. We specialize in home audio and cinema. We also do custom sound calibration and vintage equipment modulation and repair.
How has the customer base changed?
It was a lot traditional audiophiles types when we started, but now people who are looking for great sound in their home are also interested in design choices and what incorporates into their living space. Highly functioning furniture or objects of art, are more the way we liked to think of audio equipment. It's translated to a new group of clients that respect that hi-fi is an experience they want to live in. We want you to interact with the gear. It's a tactile object that should be showcased and translated into a tactile listening experience. We want it to live beautifully in your home. A lot of people hid their stereos with Bose mini systems in the 80's, and now again with Sonos speakers.
What are the trends in the biz these days?
We see music lovers more than audiophiles per se. Clients have become younger and more excited to showcase their equipment and find the pure joy of music.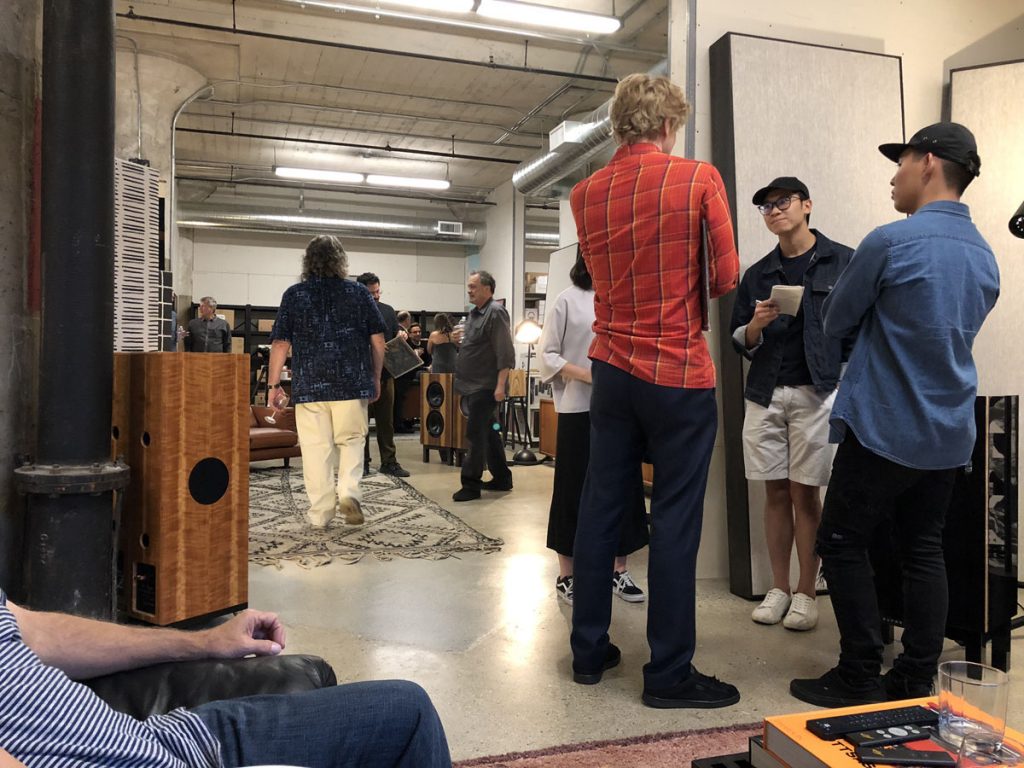 In what order would you put the importance of components?
No. 1 are speakers. The speakers interact with your ear, they interact with your room and they interact with the electronics, so it's the one that will determine your experience — based on your room and your tastes.
No. 2 is the Source (i.e. turntable, DAC, CD player). It is where the signal originates. The source is going to let the speakers do their best job.
No. 3 is the amplifier. The piece that bridges the source to the speakers.
No. 4 are cables. Never underestimate the importance of quality cables.
What are your thoughts on the digital vs. analog debate?
That's a difficult question to answer. Digital is better in a lot of ways: It's clear and pure, and it's noise free, so there is so much information with more frequencies. It's the best format we've ever come up with for detail.
So why deal in analog?
While they may not have as much dynamic range as files, records just feel more real. The music comes off the grooves with a spacial tonality. If the record engineer has done his or her job correctly, the music is brought into clearer moments of focus. Things happen in space more naturally, and feels like the master tape. The analogy can almost be summed up by digital photography versus developing film: You may get a more precise and micro-focused photo with digital, but with film there will be more of an emotional pull. Our customers are 60% digital and 40% analog but again, turntable sales are on the rise.
Where do you think Hi-Fi is going?
It's really exciting to see something that was on the decline have such a resurgence. The craft of two-channel stereo is coming back in a big way. There is an enthusiasm from the public. They want to bring audio into their home and make it an experience — the way it used to be. More and more people want to get together, listen to and talk about music again.
Visit Common Wave's website to book an appointment: https://www.commonwave.net/